Le Clos des Chênes Blancs reopens its doors !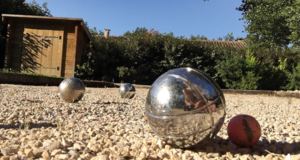 Le Clos des Chênes Blancs has reopened its doors and welcomes you since June 2, deconfined, without constraints of distance and in complete safety.
Special precautions have been taken to welcome you in the best conditions, compliance with the gestures barriers and sanitary standards in force in the Tourism industry.
We therefore suggest that you forget the few weeks we have just lived and consider the next ones: sunny and quiet, rest or why not in sports mode…
No matter what you say, shoot, point… it's sport. The most famous Provençal sport in the world! I want to talk, of course, about petanque.
This year, we (re)fitted out the ball field. A high table, wisely positioned to count the points (and allow the loser to «pay» the aperitif) has been installed, a rake (special dedication to Emmanuel C. 😊) is available.
But, do you know the origin and history of this game?
The petanque, contraction of «ped tanca» which means feet joined in Provencal language was born at the beginning of the 20th century in the south. Many communes are vying for the creation of this Provencal game but it is in La Ciotat that it was born.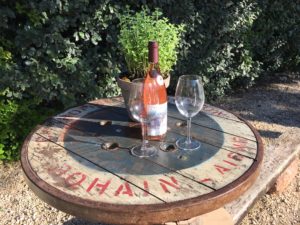 Originally, the ancients of the time played the Provençal game: teams of 3 players, who over a distance of 10 to 15 meters had to perform 3 jumps before being able to throw the ball. But a player of the time, Jules said «the Black» with rheumatism could no longer play…  Sitting on his chair and positioned 3 metres from the pig, he was training to shoot balls. His friends asked him to join him and, for equality, they placed themselves in a circle on the ground, with tanned feet. And there, the petanque as we know it now was born.
And "La Fanny" you know? … but that's another story.
Christine and Bertrand